20-22 FORD F-250/F-350 4.5" STAGE 4 SUSPENSION SYSTEM W RADIUS ARM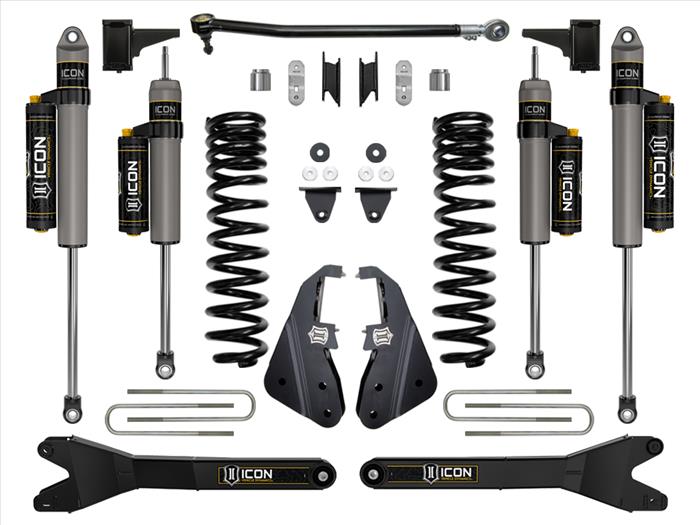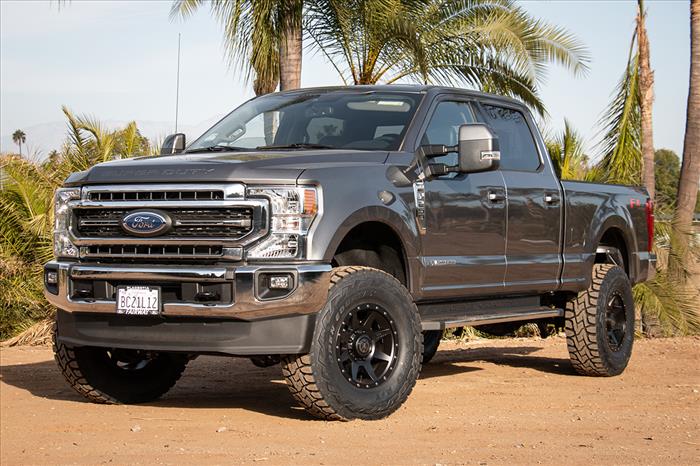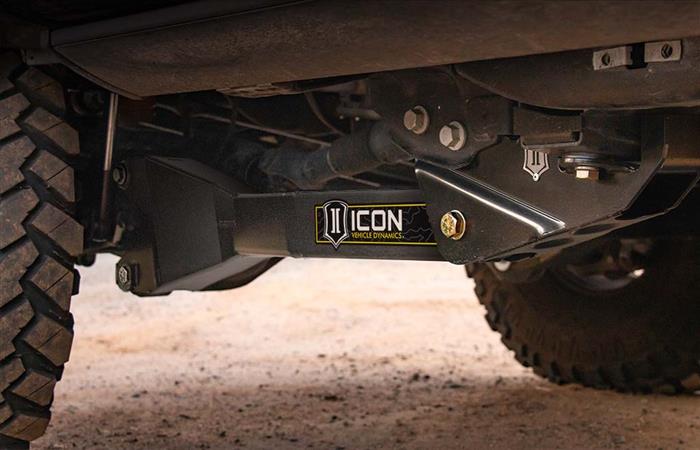 overview
The 2020-2022 Ford Super Duty trucks sit at a lower ride height than 2017-2019 models, and although many of the 2017-2019 components will physically fit 2020 models, the resulting ride height is often taller than desired. So, engineers at ICON designed new progressive rate coil springs that achieve the correct advertised lift heights while still retaining the great ride quality, predictability, and performance that our Super Duty systems are known for.
This ICON Vehicle Dynamics 4.5" suspension system is a great way to lift your 4WD 2020-2022 Ford F-250/F-350 Super Duty while drastically improving ride quality and performance. The Stage 4 system is perfect for on-road and off-road use including towing, job site duty and hardcore off-road adventure. ICON's Stage 4 System is comprised of dual rate coil springs, adjustable track bar, 5" block kit, and ICON CDC Valve 2.5 Aluminum Series front and rear piggyback reservoir shocks.
This Stage 4 system sees the inclusion of the ICON Vehicle Dynamics Ford Super Duty Radius Arm System that feature a sealed pivot bushing that minimizes road feedback and ensures a long life and quiet operation. Additionally, their fabricated, fully boxed design ensures strength and utilizes a profile optimized for tire clearance at full steering lock, making a 37" tall tire clear without coming in contact with the radius arm.
features & Benefits
Fits 2020-2022 F-250 / F-350 4WD applications
ICON shocks feature vehicle specific tune for superior performance and ride quality
ICON CDC Valve allows for 10 clicks of quick and easy compression adjustability
Shocks are fully rebuildable and revalvable
Hard anodized, corrosion resistant, one-piece impact extruded aluminum shock bodies with 7/8" shafts
FK Rod End bearings provide extended longevity and minimal deflection
Lifetime guarantee against coil spring breakage or sag
Lifetime guarantee against ICON fabricated component breakage or manufacturer defect
Approximately 50% increased front wheel travel over stock
ICON-engineered dual rate coil springs deliver exceptional vehicle control over varying terrain
Fabricated radius arms with drop brackets offer on vehicle caster adjustment, increased strength, and improved tire clearance at steering lock
download installation guide
Tech Info:
OEM Wheels & Tires Fitment: Yes
Recommended Aftermarket Wheels: ICON Alloys | 17x8.5" w/ 5" Backspace / 6mm Offset
Recommended Aftermarket Wheels: ICON Alloys | 18x9" w/ 5.25" Backspace / 6mm Offset
Recommended Aftermarket Wheels: ICON Alloys | 20x9" w/ 5.25" Backspace / 6mm Offset
Recommended Aftermarket Tires: 37" x 12.50" (Larger tires may fit but fender trimming and modifications will be required.)
APPLICATION NOTE #6: SPRINGS ARE RATED FOR DIESEL ENGINES ONLY
APPLICATION NOTE #115: LIFT HEIGHTS BASED ON 4WD CREW CAB DIESEL
TECH NOTE: Trucks equipped with Tremor package with have front lift height of 3.5" over stock
TECH NOTE: Brake line kit (Part # 61110) is optional for end users who do not want to bend the factory steel lines or are looking for a braided stainless upgrade (not necessary for complete install)
Ships in multiple boxes
System Components:
64050 (QTY: 1) | 08-UP FSD FRONT 4.5" BOX KIT
64011 (QTY: 1) | 20-UP FSD FRONT 4.5" DUAL RATE COIL KIT
64038 (QTY: 1) | 17-23 FSD ADJ TRACKBAR KIT
64041 (QTY: 1) | 05-22 FSD RADIUS ARM SYSTEM
64055 (QTY: 1) | 17-UP FSD RADIUS ARM DROP KIT
195275 (QTY: 1) | 99-UP FSD 5" BLOCK KIT
67003 (QTY: 1) | 11-UP FSD REAR 15" U-BOLT KIT
67710CP (QTY: 1) | 05-UP FSD 4WD 4.5" FRONT 2.5 VS PB CDCV PAIR
37705CP (QTY: 1) | 99-23 FSD 0-3" REAR 2.5 VS PB CDCV PAIR
Request a Quote
Don't Forget
the wheels